Scientists Identify 2 New Genetic Mutations in 2 Iranian Girls With Rett Syndrome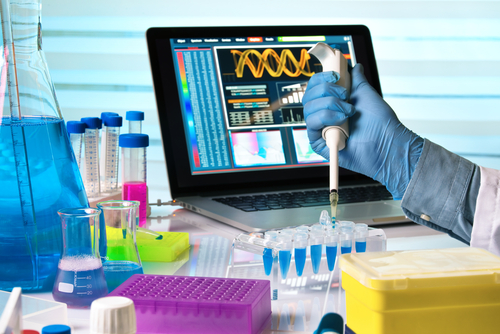 Scientists in Iran have identified two new mutations in the MECP2 gene in two young girls with Rett syndrome.
The findings draw attention to the need to focus on a specific portion of MECP2 during genetic screening for Rett.
The study, "Two novel mutations in the MECP2 gene in patients with Rett syndrome," was published in the journal Gene.
More than 95% of Rett patients carry a mutation in the MECP2 gene, which gives instructions for making an important protein in nerve cell function and communication. Most of these cases are caused by "de novo" mutations, which are not inherited but rather occur during embryonic development.
In protein generation, DNA is first converted into messenger RNA (mRNA), which undergoes editing to include only exons — the actual bits of genes that contain the information to make proteins.
Depending on this splicing process, the MECP2 protein presents in two different isoforms (similar but not identical proteins). The first isoform is composed of exon 2 to 4, while the second starts on exon 1 and skips exon 2.
More than 900 unique genetic variants have been described for the MECP2 gene, with up to 80% located in exons 3 or 4.
Researchers at the Shiraz University of Medical Sciences, in Iran, identified two novel variants in these exons. The alterations were found in two of seven girls with Rett syndrome who underwent genetic screening.
One of the girls, age 12, carried a mutation called c.354G>T, p.Gly119Gly, in exon 3. At birth, she had signs of microcephaly (head smaller than normal) and after 13 months, she showed impairments in motor function. At age 2, she developed stereotypic (repetitive) hand movements, and by age 3, she experienced seizures.
Besides changes in the brain seen on magnetic resonance imaging (MRI), the girl also experienced problems in sleep, poor eye-gaze ability, and an abnormal electroencephalogram (EEG), which records electric activity in the brain.
Her parents did not carry this mutation. The researchers believe that this variant did not change the actual sequence of amino acids (the building blocks of proteins) in MECP2 but rather caused an error in the splicing process, modifying mRNA.
The second patient, a 7-year-old girl, carried a variant called c.1167-1186del20 in exon 4. This mutation is located in a part of exon 4 known as a "deletion prone region." As in the first case, this was a de novo mutation.
With no alarming symptoms at birth, the girl developed abnormal neurological signs at age 2, including poor eye contact, psychomotor delay, poor speech, gait apraxia (inability to start walking), and EEG changes. By age 4, she also experienced seizures and stereotypic movements.
Overall, "the results of this study and similar studies have shown that most mutations occur in the third and fourth exons of the MECP2 gene," the researchers wrote.
They recommended that exon 4 be a priority for screening in the genetic analysis of Rett patients, and that additional studies be conducted to understand how these two novel mutations affect cells.